In this digital age, the spoken word has become more and more powerful, and yet many presentations are drawn out and easily forgotten. It's our goal to help you speak concisely, with clartity and conviction, and to make a lasting impact.
Learn to speak with passion, power and purpose. To draw people to you as you speak, in order to make lasting connection. You will be able to find, develop and deliver your story and be remembered long after you've left the stage.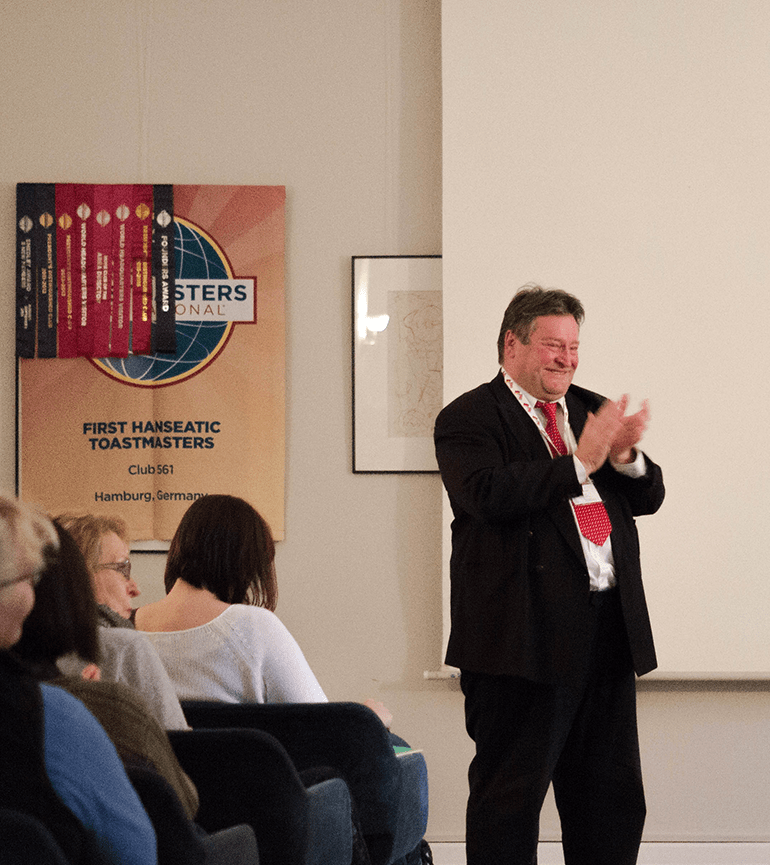 John is an expat and devoted Brit, who has lived in Germany for over 30 years.
Having worked for 20 years as a diplomat he has a career's worth of experience in writing and delivering speeches and developing connections.
He has helped countless people to speak with passion and share their vision. He can help you too.
Working with John will improve your self confidence and allow you to feel comfortable in front of an audience. You will upgrade your English skills and be able to connect with your audience and go deeper with your message. You will learn about the enjoyment of public speaking, create and spread joy.
20% HARD WORK

20%

20%

20% COMMITMENT

20%

20%

20% CONVICTION

20%

20%

20% EXPERIENCE

20%

20%

20% PASSION

20%

20%
"John is an expert in helping calm the nerves of people speaking in public. Providing the right professional & effective tips on how to win your audience and keep them interested. Attention to fine detail and how to add a touch of humour to inspire your audience to interact with you. I highly recommend John!"
Danielle Deeke
Art Therapist for
Children for Tomorrow charity.
"John Holway was a dedicated and professional member of the Commercial Team at the British Consulate-General in Hamburg. He brought great enthusiasm to our team and is great uplifter and encourager of people."
Timothy Collard,
former HM British Consul-General,
Hamburg.
"John Holway is a very dedicated and energetic business coach, who has a unique way of motivating and uplifting people. We have worked together on several Mercedes Benz Techmasters projects over the years and John has proven himself to be an outstanding team player and cultural coach. John infuses every project with his exceptional energy and humour, which makes every project with him, memorable."
Michael Kriess,
Kriess Kommunikation,
Düsseldorf.
"Seit 2012 bringt mein Unternehmen "Matthias Eisenhuth –Training und Organisationsentwicklung" in meist jährlichem Abstand für die Daimler AG im Rahmen des Projektes "Mercedes-Benz Global TechMasters" ein interkulturelles Trainer-Team zum Einsatz. John Holway hat dort die Aufgabe eines Rollenspielers und Prüfers. Im Projekt partizipieren wir von Johns jahrzehntelanger Erfahrung mit Business-Partnern. Er erledigt seine Aufgabe stets sehr gewissenhaft, kompetent und motiviert. Besonders hervorzuheben ist seine ausgeprägte Eloquenz und die wertschätzende Gestaltung der Gesprächsbeziehungen. Zudem erweist er sich als sehr wertvolles Teammitglied. Proaktiv sorgt John durch für die kreative Gestaltung von Freiräumen für allgemeine Begeisterung und stärkt so spürbar die Teammotivation."
Matthias Eisenhuth
Our seminars and workshops are group learning experiences to help everyone perform better.
We are available for keynotes, presentations and other speaking engagements at corporate level.
Our areas of expertise include personal change, intercultural matters, entertaining speeches, building business relationships and communication.

Address
Imbeskstieg 70
22527- Hamburg
Germany